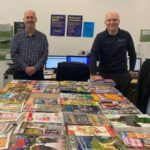 New Additions to the Unique Team
15th September 2020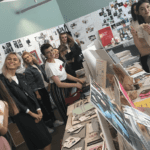 Magazines for universities
28th September 2020
Alfie Joey is a BBC Newcastle radio presenter, event host, comedian, actor, writer, and illustrator. Currently focusing on his art and illustrations, we caught up with him to find out more about his favourite magazines and inspirations.
How did you get into illustrating, acting, comedy, and presenting?
If you have an interest in something, follow your heart and try it. Less is more. It's your life, your story – you're in charge of the script. I did a 15-minute Ted Talk about my many career changes called Changing Lanes. My latest venture, illustrating, is making me as happy as all the other things did when I pushed myself to give them a go.
Who or what inspires you?
I am particularly inspired by the old Broadway illustrator Al Hirschfeld who was still drawing caricatures when he was 100!
What kind of art do you enjoy the most?
I think I love children's art the most. I really want to draw more illustrations for kid's books!
What advice would you give to anyone interested in beginning art, illustrations, etc?
Just draw! The writer Stephen King said, "You become a writer simply by reading and writing." I would say you become an artist by looking at other artists and drawing…but drawing until you develop your own style."
With most things going digital these days, what do you think is the importance of books, magazines, and art?
I've NEVER played a computer game; luckily it was never my thing. I was always happy with pen and paper. I think drawing or writing seems a better use of time than gaming because there is something obvious to show for it at the end of the day.
Do you have any favourite magazines?
I grew up loving comics. My daughter still gets Beano annuals…from me!
(The Beano has been running since 1938 and there have been over 4000 issues!)
What children's books did you used to read/enjoy?
I love the Asterix Adventures, The Beano & The Broons.
The children's book 'The ghost that could not scare', written by Steve Wraith and illustrated by Alfie himself, is a haunted Halloween tale full of fun and chilling charm. What was the inspiration behind the book?
A pal of mine, Steve Wraith asked me to draw the pictures to go with his story. I think kids love spooky stuff (I did) so I jumped at the chance!
What does the future hold for Alfie Joey Art?
I'm tweaking our new website AlfArt.co.uk . Hopefully, that will lead to more commissions, but I'd love to draw more for children's books like 'The ghost that could not scare'.