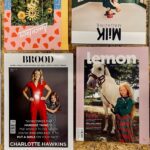 Unique's Favourite Modern Parenting Magazines
11th October 2023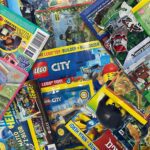 Explore the World of Lego Magazines.
17th October 2023
MATTE – Issue 63
Just look at the gorgeous velvet dust jacket on this brand new title we have in stock 😍
Rachel Stern – One should not look at anything else.
With a poem by Paul Legault, 62 photographs by Rachel Stern, an essay by Ksenia M. Sobleva, and conversation between the artist and Susan Aberth.
Each issue of MATTE tends to feature just one artist, although a small number of issues have been guest-curated around a theme or functioned as catalogues for exhibitions. The publication seeks to provide a context where emerging and more established artists can benefit from sharing pages, and is specifically interested in (but not limited to) queer issues. Gorgeous large format full-colour magazine with no ads.
Cover art crafted by Lynn Chen, who also speaks about working in animation and video games. She takes you step by step through bringing her corgi Mochi to the cover.
Also featured:
Cam Kendell who has been creating fantastical characters for a whole host of board games.
Simone Grunewald who works as a freelancer and creates online tutorials.
Alex Relloso shows how integral story is when designing characters.
There's something to learn from every artist featured in this issue.
Lemon Magazine Autumn Edition
We enjoyed browsing the pages of Lemon while catching up with a cup of coffee.
This issue is the #greenfashion edition and celebrates the transformational power of fashion to make the world a better place. Find out how style can be sustainable.
Many brands are leading the way for using natural, recycled, or upcycled materials.
Justsmile – Issue 3: Reflections are Protections 🖤
"Justsmile is an independent cultural publication at the cross-section of fine art, fashion, ideas, self-expression, and inclusivity. It is a collaborative space for creatives of all identities that uses luxury fashion as a tool for expressing ideas and dialogues. Created for everyone, Justsmile aims to shine a light on honest examples of inclusivity and diversity, providing a collaborative platform for Black and POC voices to explore their work."
This latest issue contains, Tremaine Emory on life & death, friendships & family, artifice & authenticity. Interview with lo-fi, abstract hip-hop artist Sage Elsesser, viral sensation Teezo Touchdown, and loads more.
CODE 02: Life is Death is Life 💗
"A collection of artist's images, fashion editorials, interviews and raw explorations of the liminal spaces between one death and another life, CODE 02: "Life is Death is Life" is a whirlpool in the flowing river, a cathedral window that changes in light. A cave-dive into and collective meditation on the "beauty in letting something die" (Editor's Letter), this issue of the annual magazine features works from and conversations with Dr. Michael Hoch at CERN, Black Quantum Futurism, Karinne Smith, Tianzhuo Chen, Kevin Bray, Eugene Yiu Nam Cheung and more."
MERDE – Issue 07: Survival. Fall 2023 💚
"THE MERDE ETHOS:
A self deprecating platform embedded with humor and wit, MERDE reflects on fashion's cultural landscape by exploring the creative process without a filter. With the aim to disrupt tired fashion narratives, each biannual issue picks a theme to explore – in all seriousness.
MERDE is ruled and empowered by atypical creative expression. We aim to feature the visions and voices of unlikely narratives from inside, outside, and on the fringe of the fashion scene, widening the scope of repetitive media that dominates your social feed.
A publication with reflexive intuitions, MERDE aims to satisfy fashion's postmodern desire for unconventional and subversive imagery."
This issue is full of seriously electric imagery, with internet sensation Quenlin Blackwell gracing the cover and features on model and writer Paulina Porizkova, American singer BabyJake, folk musician Matilda Mann, Alona Sobeleveskas bizzare nail art and loads more, along with MERDE regulars, horoscopes, and Ask A Bitch advice page. 💚
SENET – Issue 12 🍄
Board games are beautiful.
Senet is an independent magazine about the craft, creativity and community of board gaming.
'This magazine caters to enthusiasts of tabletop games, whether they're newcomers to the hobby or seasoned veterans and game designers. It advocates for board gaming as an artistic pursuit. Each edition offers a glimpse into the most thrilling and captivating upcoming games, delves into the tabletop gaming experience, uncovers the creative journey behind it, and provides critiques of the freshest offerings from both prominent and independent publishers.'
This latest issue features Mycelia, a beautifully designed mushroom based board game, an interview with board game illustrator Vincent Dutrait, a deep dive into dinosaur games, and area control games, loads of reviews and more!