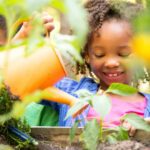 Encourage children to garden with My Mini Garden magazine
27th June 2022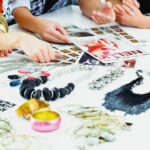 Influential Magazines Read by Fashion Students
5th July 2022
Louisa Rogers, creator of Studio Courtenay, Fashion Communications lecturer, and vintage clothing enthusiast wants "to break the stigma that second-hand clothing is somehow undesirable." 
Visits to car boot sales, markets, and charity shops with vintage-loving parents are how it all began. "My parents loved to rummage and took me along even before I could walk," Louisa explains. 
"The great appeal of vintage to me was the bright colours, bold prints, and the knowledge that nobody else would have what I had. People always complimented things that were a bit different and I realised that most people didn't dare to wear what they really wanted to. I decided I would always wear what I liked, which was usually vintage!"
Vintage clothing did not become a discarded teenage interest for Louisa. Instead, it influenced her decision to study Fashion Photography & Styling at the London College of Fashion and Creative Entrepreneurship at Newcastle University.
After graduation, Trendlistr was born. A platform for Louisa to source vintage items and sell them to a "mostly American market."
Studio Courtenay
"Studio Courtenay was a product of the pandemic," explains Louisa, and an idea that materialised after "Trendlistr had been taken as far as it could go." 
Studio Courtenay is a fashion and homeware brand that utilises deadstock fabrics to create vibrant, vintage-inspired designs. The name of the brand is the joining of two words that reference heritage and work culture:
Studio

 – an alternative to office as the brand "felt more creative than a corporate workspace." 

Courtenay

 – the family name of Louisa's mother from previous generations that moved to England in the 1700s. A "French name that felt a lot more fashionable than my current surname," explains Louisa. 
The fabrics used "have been sitting around unloved in warehouses, on factory floors, or tucked away in seamstress' storage cupboards," to not contribute to the effects of producing virgin raw materials." 
With sustainability and inclusivity at the forefront of the brand, the garments are made-to-order to ensure minimal textile waste, whilst any leftover fabric from clothing or larger items are turned into accessories.
"The challenge with vintage is how to integrate it with modern pieces to produce something that feels unusual, individual, and exciting without feeling old-fashioned or simply chaotic," encourages Louisa. 
Studio Courtenay hopes to obliterate this obstacle for clients, as the brand tweaks, sources, and upcycles vintage items to be wearable in the day-to-day. 
Photographs courtesy of Studio Courtenay