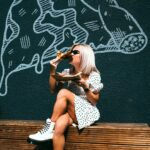 Meet Laura Middleton, the foodie behind Geordie Scran
1st August 2022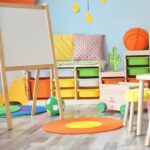 Brilliant Brainz Magazine in Schools
10th August 2022
It may be 81 days until Halloween but preparations for the spooky season have begun.
It's the most wonderful time of the year
Although Christmas reigns supreme in terms of marketing and a collective sense of celebration, Halloween is a close contender. Only mid-summer and YouTubers are posting Halloween hauls to showcase décor finds, whilst stores are marketing the upcoming holiday.
"I would say around late June is when Halloween starts to trickle into Home sense and TK Maxx," explains Luna Lilly, who shared her first Halloween haul of 2022 in July.
It's the "best time to buy home décor," she explains, and the perfect opportunity to shop for the gothic-inspired home that she shares with her tattoo artist boyfriend, Gary.
Halloween is an all-year-round influence for Luna. Her love for the holiday even more prevalent than her younger self who wore green face paint and a bin bag for the occasion. In the weeks (and months) leading up to Halloween, gothic homeware is more accessible, and horror conventions are in full swing for fans to interact with actors and collect autographs.
"My favourite person to meet was Rachel True from The Craft," enthuses Luna.
The 30-year-old also has tattoos of horror characters, such as Nancy Downs, Pennywise, and Wednesday Addams.
Thriving community
Luna is not alone when it comes to her enthusiasm for Halloween, horror, and all things spooky. In fact, social media is home to a community that already longs for pumpkin-spiced latte – wrapped in a blanket – watching Netflix's new spinoff of the Addam's Family, Wednesday, season.
The question is, why do we wish away summer for a holiday that only lasts one day? Although the blame could be placed on retailers, who market and push products for upcoming seasons and events, it seems that the Halloween-loving community isn't short of members. This is a group of people in full preparation mode for the upcoming holiday, and thanks to social media and YouTube, can share the build-up with like-minded individuals.
Spooky suggestions
Favourite films?
Luna: "The Crow, The Craft, Trick 'r Treat, Halloween, Saw, Scream, IT, Child's Play."
Favourite tv show?
Luna: "Dexter, Vampire Diaries, Ghost whisperer, Stranger Things, and Haunting of Hill House."
Go to shops for Halloween décor?
Luna: "TK Maxx, The Range, Next, and even shops like Home Bargains or Poundland can also get some nice things closer to Halloween time."
Feeling festive (for Halloween)?
Find a horror or special effects magazine to get you in the spirit.
*Photos courtesy of Luna Lily*