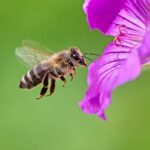 World Bee Day
20th May 2022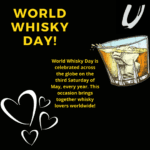 World Whisky Day
23rd May 2022
Organic gardener, plant science student, and growing in popularity on her Instagram account(gingergrows1), Hannah is a multi-hyphenated nature enthusiast. With no set plan in mind, the 26-year-old "rarely says no to a new challenge or opportunity."
A childhood amongst flowers and plants with her aunt and mother was Hannah's introduction to gardening. "My mother and Auntie always loved their gardens, so I was in garden centres from a very young age," she recalls. It wasn't until moving into her own flat that Hannah's personal venture into gardening began. Starting with house plants to herbs on the windowsill, limited space meant experimenting with vegetables she could grow indoors such as "tomatoes in hanging baskets." Since moving into her home with a garden and allotment, Hannah can now immerse herself in gardening with no limitations.
Gardening is not just a pastime for Hannah, who decided to study Plant Science at Newcastle University to learn "the processes involved in germination through to harvesting." "I still find it fascinating that a seed grows into a plant which can feed us through months of the year," she enthuses. In addition to her studies, Hannah also works with a local restaurant to grow vegetables, herbs, fruit, and microgreens.
Organic gardener – self-proclaimed and proud – means that from the get-go Hannah "never wanted to use any weed killer or pesticides, and instead stuck to garden materials from plants." The combination of knowing where vegetables on her plate come from and the environmental benefits that come with growing food make her efforts even more worthwhile.
With a following of 20k (and counting) on her Instagram account Gingergrows1, Hannah's grid is an influx of gardening advice, ideas, and snaps of cockapoo Eric. The posts are an insight into Hannah's allotment, growing efforts, and inventive recipe ideas.
Sustainable foraging and recipes
To utilise her allotment and inspire others to reap the benefits of surrounding nature, Hannah uses Instagram to share recipes. To encourage and show others that "sustainable foraging is a wonderful way to connect with nature" and that a "walk in the woods and taking time to forage is a mindful way to spend a spring afternoon." Her inspiration for recipes come from like-minded gardeners, gardening magazines, and blogs.
There are three easy to follow recipes posted on Hannah's grid – cherry blossom syrup, dandelion syrup, and picked wild garlic flower bulbs:
Cherry Blossom Syrup
"The confetti of cherry blossom falling off trees from April to May, not only looks beautiful but it is also edible and can be preserved to enjoy for months later into the year," Hannah explains. It is a "sweet addition to teas and cocktails and can be used to make rice pancakes."
Ingredients
100 cherry blossom flowers
70ml of water
400g of sugar
Sterilised jar
Collect flower heads of around 100 flower blossoms.
Separate from the stems and keep only the petals.
In a pan, cover the petals with boiling water.
Leave the petals in the water for up to 4 hours.
Sieve the petals and liquid then squeeze any excess water from the petals.
Boil the liquid again, then simmer and add the sugar.
Simmer it for 30 minutes before adding it to a sterilised jar or bottle.
Dandelion Syrup
"Dandelions flower from May all the way through until October, largest amounts in May and June. Although looked upon as an unwanted weed, not only are dandelions great pollinators and keep the bees happy, but they are also edible and can be preserved to make delicious syrups and honey. It is a tasty topping on pancakes, ice cream, and yogurt."
Ingredients
70 – 100 dandelions
1L of water
500g sugar
Juice of a large lemon
Sterilised jar/bottle
Method
Keep only the yellow parts of around 70 – 100 dandelions and rinse them well.
Boil them in 1L of water and leave them overnight in the water.
Sieve and strain the water from the flowers and squeeze any excess water from the flowers.
Boil again, then simmer and add the sugar and the juice of a large lemon.
Pour into sterilised jar and store in a cool place.
Pickled Wild Garlic Flower Bulbs
"Around this time of year (May), there's wild garlic in abundance in shady woodlands. Wild garlic has a milder flavour than the shop-bought garlic bulb, it is easily identifiable due to its pointed green leaves, and white flowers, and unsurprisingly it smells like garlic – which makes it a perfect place to start when foraging. The wild garlic season starts in late winter and lasts through until spring, so now is the time to forage sustainably. Wild garlic can be used to make any number of recipes, one of my favourites is pickled flower buds, they are delicious when added to any salad or stir-fry and taste lovely with sushi!"
Ingredients
Handful of flower buds
400ml cider vinegar
1 teaspoon of salt
1 teaspoon of sugar
Method
Wash and pat dry the collected flower buds – you can either keep the stems or remove them.
Heat the cider vinegar, salt, and sugar together – until the sugar and salt dissolve, then leave to cool.
Fill the sterilised jar with the clean flower buds and pour over the cooled vinegar, sealing the jar shut.
Once cooled, leave it in the fridge for over a week before using.
To be mindful of nature, others, and yourself, Hannah explains that it is important to "forage away from polluted areas and places which have a plentiful supply, never taking more than you intend to eat or preserve." Her advice to anyone trying a recipe – is "never be afraid to add in a little extra ingredient, a pinch of this or splash of that."
Although Hannah confesses that it is "a little scary," to have no definitive plan in mind for the future, she is excited to see what new experiences lie ahead. The "one certain thing about gardening and growing, is that there is always more to learn and more knowledge to gain, whether that be from a book, the internet or other enthusiasts – and that's the beauty in it."