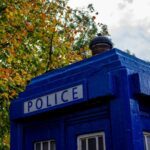 The new Doctor has been announced – Ncuti Gatwa
12th May 2022
World Cocktail Day
13th May 2022
Summer is coming, which means it is time for summer blockbusters! On the 12th of May Empire released one of their biggest issues ever, the Summer 2022 edition.
Here at Unique Magazines, it caught our eye as it has Ryan Gosling and Chris Evans on the front cover. The duo are the main stars of The Gray Man – coming to cinemas this summer. Fans are on the edge of their seats waiting for the release as it is deemed to be this year's most explosive action movie. It's also worth noting the makers are from the directors of Avengers: End Game!
According to The Daily Iowan, cinemas are in decline and have been since 2002 – we think that this might be the year to disprove that! Even back in 2021 the European Audio-visual Observatory stated "that the cinemas are beginning to recover this could've been due to widely known James Bond: No Time to Die, Spiderman: No Way Home and Dune coming out to cinemas in this year. We also must consider the COVID-19 pandemic, as this destroyed cinema attendance stats. "
So, what else is due to come out this summer?
How could we not talk about the new Thor movie? Thor: Love and Thunder. From the previews in Empire, we see Chris Hemsworth and Natalie Portman return to a reality check when Thor returns to Earth after 8 years. The director, Taika Waititi tells Empire – "I think most people will want the love story between Chris and Natalie." Although Waititi then goes onto say that he can't promise that this will happen.
Thor: Love and Thunder is out at cinemas on the 8th of July.

On the 10th of June the release of Jurassic World: Dominion sees some original cast members re-join for what has been teased to be the final showdown, this has been hinted at as in the trailer Jeff Goldblum states "the doomsday click might just be out of time." The balance between humans and dinosaurs, living and hunting together may not be so easy to achieve!
Jurassic World: Dominion is out at cinemas on the 10th of June.
Does your child love dinosaurs? Check our website here for our Dino single issues and subscriptions!
What about streaming platforms?
Disney is releasing a much-needed Obi – Wan Kenobi series on the 27th of May. As a huge Star Wars fan, myself, this is my favourite article in the whole issue. It has been 17 years since the prequel which Ewan McGregor starred in and now, he's back! Empire spoke to McGregor, and he told Empire; "the way this sits perfectly between Episode 3 and Episode 4 is really satisfying. We got to be Obi – Wan Kenobi without his power. He's out of game, he's totally rusty at the beginning. And he must make a decision whether he's going to try and get back to where he was or not."
Here at Unique Magazines we stock Star Wars Insider and Lego Star Wars magazines! Check them out to purchase single issues or a subscription.
We can't wait for you to read this issue, it is incredible! Purchase a single issue or subscription here of Empire Magazine.
By, Jessica Austin