Magazines of the Week 6th October 2023
6th October 2023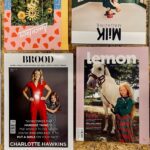 Unique's Favourite Modern Parenting Magazines
11th October 2023
At Unique Magazines, our mission is more than just selling magazines; it's about creating an unparalleled customer experience that puts you, the customer, at the heart of everything we do. We've designed our user-friendly website to facilitate effortless navigation, ensuring that you can quickly find and order the magazine that captivates your interest.
Should you ever need assistance, we have a dedicated customer service team, eager to assist with new orders, renewals, missing issues, or any other queries you might have. At Unique Magazines, our goal is to always go above and beyond for our valued customers.
We recognise the importance of human connection in today's digital age. Being able to speak with a real person over the phone can make all the difference in addressing concerns and providing solutions. Our phone lines are actively manned from 10 am to 3 pm, Monday to Friday. And if for some reason we miss your call, we make it a point to ring you back, ensuring you're never left in the lurch.
If you choose to reach out via email, we'll respond promptly. Additionally, our live chat is available for immediate answers to your questions!
Our customer base is as diverse as the array of magazines we offer. For some, like those who look forward to their weekly TV guide, our reliable delivery service is an essential part of their lives. We understand that for these individuals, consistent and timely delivery isn't a luxury—it's a necessity.
We have seen a rise in the consumption of independent magazines. These niche publications bring to the table a distinct charm, offering readers an experience that is both special and tactile. Printed on premium quality paper, they are not just informational; they are an aesthetic delight. Our vast collection spans a spectrum of topics, from fashion and lifestyle to art and design. No matter your passion, there's an indie magazine tailored just for you.
Recognising that a large portion of our customers consistently renew their subscriptions, we've crafted a feature to streamline the process for them. We're thrilled to introduce our new auto-renew feature. Now, with just a simple selection, readers can ensure they never miss an issue of their favourite magazine.
We're elated to share that our commitment to quality and service has garnered us more than 7,000 reviews with an impressive rating of 4.38 out of 5 on reviews.io. Our clients consistently commend us for our exemplary customer service, prompt delivery times, and the diverse range of products we offer. These accolades not only set us apart from the crowd but also fuel our ongoing efforts to provide an exceptional experience each day.