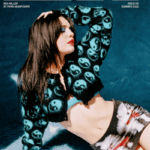 Merde Magazine confronts the problem with endless scrolling in recent issue
12th October 2022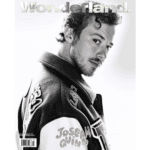 The pop culture fix that is Wonderland magazine
25th October 2022
Once readers bypass a plethora of high-end advertisements, the pages of V magazine are anything but predictable.
Mr. V. (the editor) epitomises the two primary themes of fashion and music through a short paragraph that emphasises how every issue is a time capsule. A magazine for people to "reread in years to come" and discover what trends remain influential. This choice of wording reinforces the idea that V magazine is timeless as the content, which captures the times and trends of the moment, can be revisited.
The Sound of V issue pushes this narrative through interviews with musicians including 'current' artists such as Lalisa Manobal from Black Pink and Debbie Harry (aka Blondie) who remains just as prevalent as at the start of her career.
Cover
Lalisa Manobal, a K-pop star, and member of Black Pink is the cover choice for the Sound of V issue. Her outfit's colour palette is complemented by the V logo which is temporarily in gold glitter.
Editorials
Models painted in metallic glitter, disco ball headdresses, clown-esque styling – the editorials in V magazine capture mainstream trends but in a futuristic way.
The bold shoots style clothes from high street and high-end brands, from Asos to Miu Miu, but in a way that the editorials won't feel archaic should they be revisited in the future. Through unique styling and unconventional ideas, the photos are thought-provoking rather than commercialised, making them more likely to be perceived as art than an advertisement.
Final thoughts
'V is ready-to-wear. V is large-format and visually driven. A magazine about fashion with a capital F and all the things that go with it: art, music, film, architecture.'

V magazine website
Since its release in 1999, V magazine continues to deliver what it set out to achieve. Every turn of the page is unpredictable, with unconventional styling and interviews with celebrities and upcoming people. The work within the title is unique, yet somehow mainstream – as contributors add a different twist to conventional components that make up fashion magazines.
Proving that there is still a place for interviews and fashion in print.
*Photographs from issue 138 of V magazine*