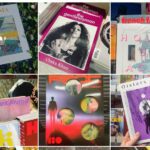 Magazines of the Week 29th September 2023
29th September 2023
Magazines of the Week 6th October 2023
6th October 2023
The Jacobite Train has garnered worldwide fame, especially since it's starring role as the Hogwarts Express in the Harry Potter series. Among the many highlights of its route, the passage over the majestic Glenfinnan Viaduct stands out. I was fortunate to embark on this magnificent journey on my birthday this year—truly a gift to remember!
Upon our arrival at Fort William station, the gleaming train awaited on the platform. Before boarding, we captured its splendour through our cameras. Stepping into the first-class carriage felt like traveling back in time; the interiors emanated an old-world charm. Plush seats welcomed us, and tables laid with cups and biscuits hinted at the forthcoming complimentary tea or coffee. Sharing this unique experience with my family made it even more memorable.
As the train gently pulled away from the station, the excitement grew. After a short ride, the driver's voice came over the PA system, announcing our approach to the Glenfinnan Viaduct. A palpable anticipation filled the carriage. When the iconic structure loomed into view, its beauty was breathtaking. Onlookers had gathered by the viaduct, their cameras ready to capture the moment. Following this, the train paused at Glenfinnan station, giving us an opportunity to explore. A trail leading from the station to the viaduct beckoned, but time constraints ensured we stayed close to the platform.
Our journey resumed towards Mallaig, offering a serene experience with awe-inspiring scenery throughout. Upon reaching Mallaig, a light drizzle welcomed us. Seeking respite and a meal, we headed to The Tea Garden Café. The bustling café indicated that the Jacobite Train significantly bolsters the economy of this quaint fishing town. After a leisurely lunch, we wandered around, exploring local shops and strolling down the pier.
When it was time for our return trip, the train offered a different perspective by seating us on the opposite side, ensuring that every traveller gets a holistic view of the scenic beauty. Upon our descent at Fort William, we were graced with the opportunity to visit the engine room and engage with the driver—a fitting conclusion to a mesmerising journey.
To view our collection of magazines featuring steam trains click here