Fathers Day 18th June – Gift Ideas
11th April 2023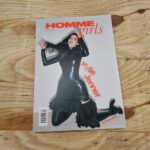 Androgynous Fashion
11th May 2023
Here at Unique Magazines, we recognize that for many of our customers, the convenience of having their favourite magazines delivered straight to their doorstep is invaluable. This is especially true for those who face challenges getting to physical shops, whether it's due to their age, varying abilities, or living in remote locations with limited access to town centres or supermarkets.
That's why we were surprised to learn that Tesco, the UK's largest supermarket group, recently stopped their magazine delivery service for online grocery orders. This has left many loyal readers without the latest copy of their favourite magazine, to them, this service was not just a convenience – it was a lifeline that contributed to their wellbeing.
At Unique Magazines, we're committed to ensuring that everyone has access to the publications they love. We know that for many of our customers, reading their favourite magazines is more than just a pastime – it's a source of inspiration, entertainment, and comfort.
That is why we always make sure that we strive to exceed our customers' expectations. Our friendly team is available to address any concerns, questions or just to have a chat about magazines in general whether it's via the telephone, email, or social media chat, we are here to listen and help.
With over 2000 magazine titles in stock for next day delivery in the UK, you can rest assured you will never have to worry about missing out on the latest issue again.
At Unique Magazines it's important to us that everyone has access to the magazines they love, so if you're looking for a magazine store that truly puts its customers first, look no further than Unique Magazines. We're passionate about what we do, and we're dedicated to helping you find magazines that you'll love – no matter who you are or where you live.