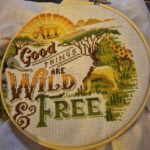 How magazines and YouTube helped to reignite my love for Cross Stitch
29th November 2022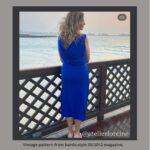 Loreine – Shares Her Burda Style Creations!
10th February 2023
My relationship with reading.
I have loved reading ever since I was a little kid! My venture started with fiction books about animals, specifically horses. My Mam read me the same one each night until my mind got too active to sleep never mind read! Then before I knew it, I was reading Jacqueline Wilson books in the library at my primary school. I would get lost in the stories and felt the characters inside, were my friends. Then before I knew it, it kind of stopped. Life becomes busy and when you're in your teens, reading is not really on your mind!
Getting into my spiritual journey.
When I left school at the age of 18, I felt a lot of space but a lot of happiness. After a hard year, where I felt as though everything was against me, I had no choice but to authentically find and then be comfortable with myself. This is an ongoing journey and there is no destination, but I don't think I could now or ever go back to the older version of me, As I am always blossoming and changing now rather than standing still. This is something I love about humans; we can always bounce back and do U turns in directions nobody would ever expect!
My mindfulness practices- An overview.
It all started with listening very spontaneously one day to a podcast, which just almost spoke to me so deeply. It is exactly what I needed to hear at that specific time after some challenges. From there I was hooked. Then in podcasts it prompted me to write a journal which turned into a daily habit. Before I knew it, I was back to the place I strayed from so many years ago, Reading this time nonfiction and autobiographies. I think I was intuitively called back to doing this, because I do love it so deeply and find comfort in it. I also heard books introduced on my podcasts, with people who have so much knowledge and wisdom.
Reading turned into inspiration and motivation. This turned into new beginnings and more awareness of what I really wanted. From there, the universe put things in my path. The opportunity to do yoga and connect with me breathe intentionally which has been life changing in difficult times. From there I became drawn too things like crystals, to set intentions and support me on different journeys and spending extra time in nature, particularly near the ocean.
Magazines that might tap into a more mindful you.
Everyone has their own startling line and path throughout their life. I am a firm believer that everyone can tap into a spiritual sense of self and we are all supposed to but things just get in the way.
Human beings are all extremely different and sometimes, its overwhelming to step into this lifestyle change with so much intensity and intention. This is where Breathe magazine comes in.
For me this magazine does a beautiful job at breaking down new habits into small but impactful manageable changes. Each article takes a fresh perspective on new ideas, as they are written by people on all different paths and parts of their journey. Some things, will blow your mind and others will make you reconnect with hidden versions of yourself unnoticed or forgotten about over years of conditioning.
This is a great consistent read and it is released every other month with a seasonal approach at times, which is a nice way to prepare your body for the changes and adjust your space, time and hobbies accordingly to fit the seasons.
The illustrations are stunning and sometimes I view them as a dive into the mind and how things look inside there sometimes. They are colourful, spontaneous and fit whatever theme the article is perfectly!
As my current focus and intention is to be more present every day, Reading does just that for me. In that moment when I turn the page, nothing else matters and I know nothing outside my book, as that takes all my attention and focus too read it with intent and find the messages hidden between each line.
By Ellie Purvis