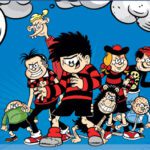 The Beauty Of : The Beano
1st October 2015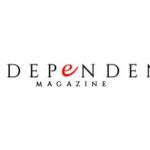 Introducing: Artdependence
18th May 2016
Ah, Christmas. A chill in the air, lights and decorations in the streets and a time to relax and spend precious time with family and friends. As December rolls around and the nights draw in, thoughts turn to choosing and sending Christmas cards, shopping for presents – and, of course, the promise of Christmas parties and the celebration of the big day itself.
The winter months can present a number of different challenges when it comes to getting dressed up for an occasion. It can be freezing cold outside and then, as fires are lit and thermostats turned up, there can be sauna-like conditions inside.
From thermal underwear to thick jumpers and hats, gloves and scarves… achieving a measure of sartorial elegance can be hard when you can barely move for layer upon layer of clothing. And whether you're six or sixty, the Christmas party season always demands a little 'more' from your wardrobe. Here's our guide to dressing with seasonal style, whatever your age.
Baby's first Christmas
A baby's first Christmas is always a special time and choosing an outfit for the day can be a great way to add to the celebrations and create a precious souvenir for the future. From festive babygros and bibs to tiny Santa outfits, you'll find lots of choice on the high street and online. Look out for traditional Fair-Isle knits and tartans to keep your little one warm in the cold weather, Nordic-print socks and tights to make sure toes stay toasty and fur-trimmed hats and coats to beat the chill. The Christmas issues of Gurgle and Mother and Baby are always filled with beautiful ideas for babies. And, if you're looking for something a little different, the editorial team behind The Green Parent feature fair-trade and sustainable fashion that focuses on natural materials like Merino wool and Alpaca.
Fancy dress and dresses for kids
Whether it's time to find those tickets for the school disco or you're getting ready for a festive celebration at home, a Christmas party gives children a chance to kick back, relax and get ready for the lazy days of the school holidays.
Choose bright reds, clean whites and vibrant greens for a traditional theme or pile on the sparkle and glitter. Fancy dress costumes add an element of fun to any celebration for both boys and girls. Look out for funky ways to dress your Santa's elves, reindeers and Christmas fairies. Keep younger children comfortable and protect against scratchy costumes with a layer of natural fibre like cotton or viscose next to their skin, so they can run and dance to their heart's content without overheating. Milk Magazine Kid's Collections features beautiful fashion stories and ideas for outfits from around the world that stand out from the crowd.
Still can't quite find what you're looking for? Take inspiration fromSimply Sewing with its fun and easy to follow beginners' dressmaking projects. From upcycling with style to revamping charity shop finds, you'll be able to craft your own creation and guarantee that your child will be wearing something unique for his or her big party.
The teenage Christmas
It's a fact that many older children have their own definite sense of style. And that trying to prise them out of their favourite band t-shirt or baggy jumper, even for one day a year, may prove to be difficult. Bi-annual style publication Kid's Wear features trend-driven fashion for children of all ages, with features like "Christmas Boys – 'for the stylish and sophisticated or artsy' one" and "Christmas Girls – for adventurous girls". Featuring the work of top fashion photographers like Bruce Weber and Michel Comte, Kid's Wear is a super-chic celebration of fashion, life and culture that will inspire and delight even the most recalcitrant teen.
Men à la mode
Menswear can be divided into two distinct camps at Christmas – the stylish and the novelty. Think Colin Firth in Bridget Jones's Diary and you've got the novelty angle covered. From Santa socks to Christmas jumpers, if you like to add a smile to an event check out the December issue of GQ which features brilliantly titled articles such as "Guide to Santa's Magnificent Seven – The Best Christmas Jumpers".
Publications like High Snobiety, Entourage and Dapper Dan delve into the world of designer menswear, trend and couture. Interviews with top menswear designers like Rick Owens and Issey Miyake will give you a peek into emerging fashions for the coming year and hint at which collections to invest in when the January sales start. With stunning fashion shoots and in-depth looks at sneakers, luxury leather goods, watches and male grooming, they're ideal places to hunt down brilliant gifts for friends and family too.
Menswear for the Christmas party
Ah, the office Christmas party. A chance to network, to catch up with friends – and to impress. Whether you're looking to catch the eye of your boss and have one of those clever conversations that can lead to a promotion or a pay rise – or you're more interested in talking to the new member of staff in accounts – the Christmas party is a once-a-year opportunity to impress. The November and December editions of titles like GQ and Men's Health are packed full of tailoring, fine knits and the pick of the season's colours to make you feel your best.
Take inspiration from the glossier end of the magazine market with Men Moments to see how the season's trends have fed down to the high street. Look for quality fabrics like worsteds and Merino wools that will be worth your investment and for those little details that will catch the eye and could work as a conversation starter: a silk tie, a beautifully cut shirt or a new watch. And if timepieces are your thing, then you'll happily while away an afternoon with a copy of The Hour, a specialist publication that features watches, culture and a wider look at the world at large.
Every year Esquire magazine releases two editions of its fashion bible,The Big Black Book in both the UK and the US. The publication is for "the fashionable man who knows how to indulge". It aims to give its readers "the knowledge, the back-stories, and the wherewithal to make informed choices". Choose your office party outfit well and you can recycle it for Christmas Day, unless – of course – you've already planned a hot date with a novelty jumper and jeans.
Female festive fashion
Christmas fashion for women is a cornucopia of jewel-like colours, luxury fabrics and sparkle. It's a time of excess, glamour and of fun. From the high street to designer stores, life simply gets a little more beautiful in December.
The office Christmas party gives you a reason to indulge in the nicer things in life, from beautiful underwear to designer lipsticks. Discover the latest trends and see what's happening out on the street with a weekly publication like Grazia, – or take an in-depth view into what's changing when it comes to skirt lengths, jacket styles and cosmetic palettes with the heavyweight December editions of Vogue and Harper's Bazaar.
If the thought of arriving at the party and being spotted in the same outfit as someone else fills you with horror, explore the style of past decades and discover unique vintage gems that couldn't be found in a high street store. Delve into the fashions of the 1920s through to the 1970s with a copy of Vintage Life for examples of inspirational style that never goes out of fashion.
Christmas offers an opportunity to be a little bolder when it comes to your clothes, hair and make up than you might be for the rest of the year, and many magazines like InStyle and the cleverly handbag sizedGlamour feature tutorials so that you can learn how to do tricks like the classic "smoky eye" make up style, or how to apply red lipstick that will stay in place all night.
Some of the top cosmetic companies like Chanel and Lancôme launch limited edition palettes to celebrate the Christmas season, and these can make beautiful gifts – or a be great way to feel special on the night of the party.
Fancy a more dramatic change? A new haircut can make all the difference as you enter the festive season. Sophisticate's Hairstyle Guide features styles and trends from around the world for every hair type, colour and length. Add a little colour, experiment with a new fringe or simply indulge in a cut and blow dry before your big night.
When it comes to Christmas Day, the high street offers a wide range of styles, from super-fun Christmas jumpers and tailored trousers, to sequin tops and dresses to make sure you feel festively fabulous from Christmas morning to night. Sparkle, sequins and glitter aren't just for the Christmas tree decorations, prepare to shine with style.
Advanced style
As New York blogger Ari Seth Cohen has demonstrated with his brilliant film and book about stylish women over the age of sixty, Advanced Style, 'age ain't nothing but a number'. US publication, Grey, is aimed at older readers who have a love of high fashion, stunning photography and trends from around the world. In the UK, Prima magazine offers practical and light-hearted Christmas fashion advice with articles like, "10 Christmas Jumpers You'll Actually Want to Wear!" and for the older gentleman Singularity offers a unique take on the luxury menswear market.
Whatever your age, the high street and designer boutiques overflow with ideas and gifts to make Christmas a beautiful and stylish time of year. Experiment, enjoy and have fun.