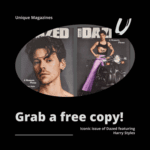 Harry Styles Dazed
21st April 2022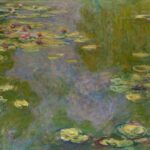 The influence of nature and gardening
27th April 2022
When I was little, I remember that getting a magazine at the supermarket during the food shop with my mum was a must for me. I started to read fashion magazines around the age of twelve. Although that is quite young to be reading Vogue, ELLE, and Cosmopolitan I always understood fashion.
Fashion magazines have always been important to me, even more so now I'm studying fashion. They are essential within the fashion industry to create and distribute valuable information relating to styles, trends, designers, and relevant topics. I would much rather have a physical magazine over a digital one despite wanting to work in social media and marketing. There is something so special to me about holding an actual magazine. The beautiful covers, glossy paper, and feeling of turning over the page onto a spread of immaculate imagery and sensational stories.
Fashion magazines feel like a fantasy, you open them up and see the things that you dream of. Classy clothing, sensational supermodels, high-end products, and heavenly holidays grace the pages. I look through magazines and just can't help but want everything that I see because it's so beautiful. In a way, it makes me want to work hard and hopefully have my work published in a magazine that I adore one day. There are so many fashion magazines out there and so many that I want to pick up and read. The thought of reading different fashion magazines excites me because it will expand my knowledge to see various sides of fashion.
I have a huge collection of magazines at home that starts from 2012. Although I did get rid of a lot of them when I was younger, I am lucky to have a great collection still. That collection includes Vogue UK and international versions, ELLE, Vanity Fair, Dazed, Hero, and Cosmopolitan UK and International. These are great to look at for inspiration and sources for university work. My collection has been so useful throughout my degree, and I have used and referred to many of them within my work. I feel lucky to have access to magazines from the comfort of my bedroom to use whenever I feel like it. Collage is something I enjoy doing with magazines because I find it therapeutic and enjoy the creativity that it involves. It's like new fashion comes to life when I piece different magazine cut-outs together!
A treasured magazine in my collection is ELLE UK from March 2013 – an issue I got when I was only 12 years old. The issue features a double-page spread and an interview with my inspiration, Victoria Beckham. The fact she is my inspiration made my younger self very excited to read this when I was younger and still does today. I still light up when I read it.
*Words and photographs courtesy of Olivia Rowell*
Unique Magazines want to continue supporting students through print – contact us with any enquiries @ enquiries@uniquemagazines.co.uk