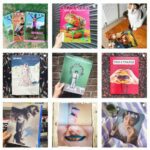 Magazines of the Week 14th July 2023
14th July 2023
Magazines of the Week 21st July 2023
21st July 2023
In the high-speed digital world, driven by quick clicks and rapid scrolls where a multitude of desires can be met with a mere tap on a smartphone screen, there is a distinctive appeal to owning something tangible.
Immersing in a magazine provides a welcome respite from the frenetic pace of modern life. It encourages a slower, more deliberate mode of consumption, fostering a deeper engagement with the material at hand.
There's something incomparably satisfying about possessing a physical magazine. It's easy to perceive the quality not just through words and pictures, but also in the feel of the page and the distinctive aroma of fresh print.
This multisensory experience is one that digital media simply cannot emulate.
Similarly, vinyl records embody this appreciation for tangible media. Their resurgence over the past decade speaks volumes about the enduring allure of the physical format. The much-loved medium is on the increase and now, for the first time since the Compact Disc was introduced back in the second part of the 1980s, they have overtaken the CD, reclaiming the No1 place in the sales charts.
There is a unique nostalgia attached to the act of visiting a record store, meticulously perusing the diverse assortment of vinyl records, or eagerly awaiting the release of a new single from a favoured artist.
HMV was founded in 1921 in London and has been around throughout the rise, fall and rise of the much-loved vinyl. However, Steven Mason, a member of the team at HMV in Gateshead's Metro Centre believes that vinyl has made an amazing comeback.
"It's always good to have something physical, holding that vinyl in your hand," he mused. "Vinyl fizzled out and the big part of it was because of social media and CD technology; Myspace was a big thing – a lot of bands were discovered on that platform. CDs were popular, and people were streaming so vinyl did disappear, but one thing I've noticed is that once you are a physical collector then you always will be a physical collector, and I don't think you can explain why!
"Many enthusiasts love the thrill of raking through the boxes and shelves full of different artists fighting for attention. Come into the store and you must look through the vinyl we have on sale.
"You can shop online, but it's about the physical hunt…. The possibilities of it being there, the maybes, the chances of finding exactly what you have been looking for shining up at you. The hunt is something you can't explain unless you are a collector.
"Red Hot Chilli Peppers had 19 different variants of coloured vinyl for their last album. One of my friends bought every different copy as you have to have them all don't you?"
Upon bringing the vinyl record home, the sensory experience continues. The act of sliding the record out from its sleeve, catching the distinct scent of pressed vinyl, and feeling the grooves under your fingertips – these moments hold a particular charm that a downloaded or streamed song simply can't replicate.
A band's vinyl release is something to cherish, a pivotal moment in their career.
Steven added: "Having something there, something to grasp, is part of it. If you are a local artist – and we do stock a lot of them here in HMV – getting your album pressed on vinyl is a stamp of approval. You've made it.
"When Myspace arrived and people stopped making music for a vinyl recording, it was all about cutting corners and compressing, thus affecting the audio quality. Many albums were never released on vinyl, and they are only now being made available."
Looking back at the vast collection of vinyl discs, Steven acknowledged their nostalgic appeal: "It's something passed down the generations. I hear a lot of 'I used to have…' or 'I got rid of…' and 'my son has now got it, so I'm buying it again for me'.
Music possesses a potent ability to transport us back in time. A specific melody or lyric can trigger vivid memories, often with surprising clarity.
When you listen to music on vinyl, these memories take on even richer hues. The characteristic crackle, the warm tonal quality, and even the incidental background noise, all add layers to the auditory experience. In fact, many listeners find these unique attributes of vinyl recordings more comforting and engaging than the spotless sounds of contemporary digital files.
The second-hand vinyl record markets are ever growing, and the allure of vinyl records and magazines extends beyond their primary content. Both forms of media have carved out a niche as collectible items, cherished for their historical or sentimental worth.
Steven added: "Album covers are justified by the vinyl sleeve, the record and how big it is to see. So many are classic and iconic. Queen have a lot of recognisable ones, but more recent albums have different outlooks, even using technology to bring something different.
"We have one in store now which absorbs your body heat, and it leaves your imprint on it for five seconds. When it comes to album art don't judge a book – or magazine! – by its cover. Pick it up and look at it.
"Some albums just get it right with a very good image or photo. Every album has a different style and, as a collector, you see the inspirations. The Doors classic albums are always going to be Doors classic albums by the cover."
The vinyl covers are often created by notable artists and photographers, such as Andy Warhol, Damien Hirst, and Banksy. Even the renowned surrealist artist Salvador Dali produced an album cover artwork back in the 1950's. Some of these artworks are highly collectable. The original artwork by Banksy on the cover of Blur's album Think Tank sold for £75,000 at auction.
Similarly, magazine covers and features can be considered unique snapshots of cultural moments.
Steven added. "I used to collect Total Film magazine and I would love the exclusives, the behind-the-scenes features, the free mouse mat you would get – and you don't get that with digital versions. The adverts in magazines are like a part of history – look back at old HMV adverts, the branding at the time, the prices, the images, the styles."
Additionally, the presence of special or limited editions enhances their collectability. These versions, often with unique artwork or additional content, provide an extra incentive for collectors, who value not just the music or the written content, but also the exclusivity these editions offer.
Steven commented: "Coloured vinyl is a thing, limited editions, art cards – you can't fit a poster in a CD! If an artist brings vinyl out, there's endless options."
Does Record Store Day resonate with you? It's all part of the big build-up and the suspense.
"As an artist they can plan and have a countdown to a release,'' admitted Steven. "We had Gary Numan fans waiting outside early morning for us to open because they knew we would have it in store on release day. There's evidently a wide range of people that come for vinyl, across every generation. In HMV we see all walks of life in the store." Observed Steven.
"People come in for something we sell; films, music, vinyl, CD, posters, books, the pop culture side of it, the technology to play it. I speak to people all day when they come in the store and their passion comes across.
"Records come out and, personally, I waited for weeks waiting for an album to come from America and when that vinyl arrived it was like a ray of light."
This evident appeal of vinyl isn't just in the UK, it's across the globe. Steven recalled that when Joey Wit from Florida sang live in HMV, he was delighted to be playing in an actual record shop: "Although there's pockets of stores in America, seeing what we've got here was a big thing for him."
In essence, the value of vinyl records and printed magazines is multifaceted. They provide sensory experiences that digital alternatives cannot replicate, engage users in a deeper and more meaningful manner, and serve as cherished collectibles with potential historical or sentimental significance.
It's these unique attributes that contribute to the continued appeal of these enduring physical formats.
We sell loads of music magazines and much much more on our website!
---