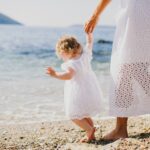 Travelling abroad with children and babies
3rd May 2022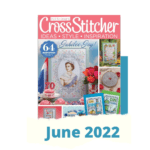 Cross Stitcher June Edition
6th May 2022
Creator of The Pink Shed and Allotment Diaries – delve into the world of a gardening influencer 
 A pink shed in the middle of London continues to create opportunities for Emma Bailey. With a combined following of 35k and collaborations with magazines, this garden-growing enthusiast wants to share her journey with others.
It was in 2019 when space limitations at her rented property prompted Emma to seek out an allotment plot. A space to develop her gardening skills and grow even more fruit and vegetables.  
The origin story of the pink shed
Newfound gardening knowledge, eagerness, and a pot of pink paint are how it all began. "When I first got my allotment plot, I painted my shed pink, much to the delight of my plot neighbours and people on social media," recalls Emma. A shared enthusiasm that solidified the name, The Pink Shed was created to grow a community and inspire others to give gardening a go.
A frequent user of social media and YouTube, Emma explains that "it felt natural to me to want to document this journey online." Thus, the first Allotment Diaries video was uploaded. The Allotment Diaries are a series of videos that capture Emma's venture into gardening, including the highs and lows. In the hope to inspire others with uncomplicated and relatable content. "There are so many books, so many websites and experts telling you how to do it that you can end up overwhelmed with information," Emma tells us.
 Escapism and sustainability 
Gardening is a form of escapism for many, it inspires creativity and challenges people to try new things. Whether it's vitamin D, the spring breeze, or being able to watch something grow because of your own efforts, gardening is a hobby with the ability to improve help mental health.  
A pastime that only grew in popularity during the pandemic when the Government advised everyone to stay at home. Gardening was particularly important to Emma. "It's helped my anxiety. I know that after a few hours of pottering about in the garden I will feel calm and relaxed again. Plants just make me feel better," she explains. 
A topic that goes hand in hand with gardening is sustainability and the benefits of growing fruit and vegetables. Participants in the gardening community often exchange sustainable ideas and practices. Emma tells us that she, "reuses plastic pots, collects water and attracts as much wildlife to the plot," to help the environment. 
Gardening has led to a social calendar filled with events, friendships with like-minded people such as Tom (aka Daisy Desire, The Drag Queen Gardener), awards, and collaborations with various gardening magazines. 
 Emma enthuses, "I love what I'm doing right now. Creating digital content related to gardening has become a passion of mine."
 To be inspired check out some of Emma's favourite gardening magazines, Gardeners World and Garden News.